Best Wedding Photographers in Chandigarh | Red Veds Photography
Chandigarh is a place of beautiful gardens, lush green landscapes, and romantic weather environment favoring the events across the season. The planned-city is internationally famous for its architecture, Sukhna lake that steams down from the Shivalik hills, Asia's largest Rose Garden, The Rock Garden, and the beauty of the green belts attract the couples from across the country to its romantic aura and other exotic places.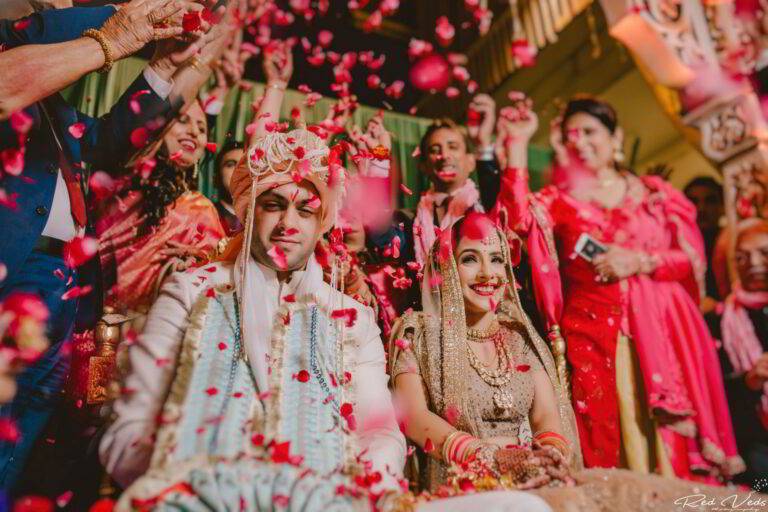 If you are one of those couples who are anticipating to have a wedding ceremony in Chandigarh, then it becomes imperative for you to hire the best wedding photographers in Chandigarh who can capture all you amazing and stunning moments of your great day. 
The best wedding photographer in Chandigarh will make sure that he captures every element at the wedding eloquently. Since a wedding ceremony is a three-day event, and sometimes it stretches to a week, the photographer will cover all the ceremonies that will take place before and after the wedding function. From pre wedding ceremony like a photo shoot, Sangeet ceremony, Mehndi Ceremony, Haldi ceremony and later the reception and the main wedding function and the ring ceremony, the best wedding photographers in Chandigarh will make sure that all these functions and ceremonies are covered supremely.
What Red Veds Is All About
Whenever we think of a wedding, we picture a blissful picture filled with rituals, colors, traditions, emotions, music, dance and endless joy. Red Veds has been turning these thoughts into soulful photos for more than three decades. Known for its photography expertise and use of updated technology, Red Veds is setting new milestones in the world of photography and cinematography. Our quality, artistry, and creativity are unmatched. Red Veds is regarded as a top wedding photographer in Jaipur. Their goal is to capture wedding moments and create beautiful memories that can be cherished for a lifetime.
The team consists of a group of passionate photographers, cinematographers, and designers who put their heart and soul into every project they work on. A Red Veds wedding photographer specializes in pre-wedding, post-wedding, engagement, family, birthday, and anniversary photography in Jaipur.
The Red Veds is one of the best wedding photographers in Jaipur. They have been doing this for 10 years, and their team of experts can capture every moment.
A top 10 wedding photographer in Jaipur, Red Veds has been ranked by Wedding Sutra . Several TV shows, magazines, and newspapers have also featured them, including APN News, Hindustan Times, and others. Additionally, the company has added videography services that capture the precious moments of your wedding day in a cinematic and editing manner. Red Veds has also been featured on several online portals.
Uncategorized
Harpreet & Khushdil #Hardilkhush -When"Vaqeelan di Kuddi met Jattan da Munda" This story starts with us meeting the Bride on the first Cocktail Night. Yes
Read More »
I am Mohit Bhardwaj an exclusive Indian wedding photographer specialized in wedding, Prewedding and Fashion Shoot. As a photographer, I usually work throughout Chandigarh, Delhi, Udaipur and also available for destination wedding photography anywhere in the world. Through my ten years of journey, I learned that photography is an art of capturing emotions and love that are confined within us. With recognition over time and experience, we became a team of a well versed and qualified team of professional photographers, and I named it Red Veds.
Based in Chandigarh, Red Veds is a team of creative and versatile photographers specialized in covering exuberant events like weddings, pre weddings, fashion shoots, festivals, fashion shows, and other national and international events across India and beyond. We believe in creating memories through the skills of photography that help us to relive those memories as we age. With the experience of over six years, Red Veds has successfully covered national fashion events, big fat weddings, creative pre weddings, etc. We are a team of creative photographers that has a cult to break the monotony to capture pictures, we endeavour to capture these events candidly and supremely. 
Why Choose Red Veds Photography?
We at Red Veds are a group of creative and the best wedding photographer in Chandigarh who strive to make your wedding an exuberant and a memorable event of your life. Our teams of professional photographers cover events like pre wedding, wedding ceremonies, bridal photo shoots, fashion events, and so on. If you anticipate having any of these services, then you must contact us and we will make sure you get the premium services on your ideal function. 
What our customers say about us
Just wanted to say thank you so so much for being a part of our special day. Honestly the photos are absolutely amazing. We are so happy with them. Everyone has said how great you were on the day!! You got some amazing shots and came back with the photos so quickly. We will definitely write you a great review and recommend you to all of our friends.
The photos are AMAZING!!! Thank you so much!!! We had the best time shooting some special moments with you!
I wanted to email to say thank you so much for our photos! We are absolutely in love with them and so is our family. We have download and print all of them! Thank you so much for capturing such a beautiful day of ours.
THANK YOU!!! The photos are absolutely perfect! We could not be more thrilled with how wonderful they have turned out. You are truly a magician! We have no idea how you managed to make the darkest, wettest day in a century look light and bright and warm… Thank you.