Red Veds Photography | Best Wedding Photographers in India
Chandigarh is a place of beautiful gardens, lush green landscapes, and romantic weather environment favoring the events across the season. The planned-city is internationally famous for its architecture, Sukhna lake that steams down from the Shivalik hills, Asia's largest Rose Garden, The Rock Garden, and the beauty of the green belts attract the couples from across the country to its romantic aura and other exotic places.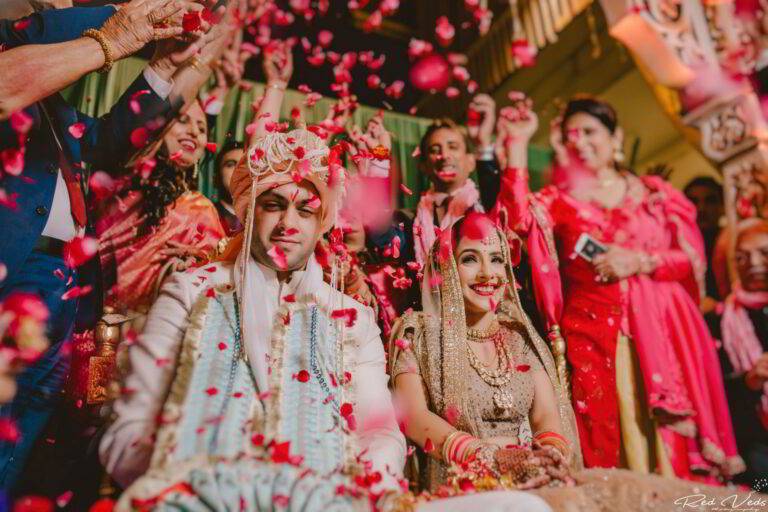 If you are one of those couples who are anticipating to have a wedding ceremony in Chandigarh, then it becomes imperative for you to hire the best wedding photographers in Chandigarh who can capture all you amazing and stunning moments of your great day. 
The best wedding photographer in Chandigarh will make sure that he captures every element at the wedding eloquently. Since a wedding ceremony is a three-day event, and sometimes it stretches to a week, the photographer will cover all the ceremonies that will take place before and after the wedding function. From pre wedding ceremony like a photo shoot, Sangeet ceremony, Mehndi Ceremony, Haldi ceremony and later the reception and the main wedding function and the ring ceremony, the best wedding photographers in Chandigarh will make sure that all these functions and ceremonies are covered supremely.
What Red Veds Is All About
Whenever we think of a wedding, we picture a blissful picture filled with rituals, colors, traditions, emotions, music, dance and endless joy. Red Veds has been turning these thoughts into soulful photos for more than three decades. Known for its photography expertise and use of updated technology, Red Veds is setting new milestones in the world of photography and cinematography. Our quality, artistry, and creativity are unmatched. Red Veds is regarded as a top wedding photographer in Chandigarh . Their goal is to capture wedding moments and create beautiful memories that can be cherished for a lifetime.
The team consists of a group of passionate photographers, cinematographers, and designers who put their heart and soul into every project they work on. A Red Veds wedding photographer specializes in pre-wedding, post-wedding, engagement, family, birthday, and anniversary photography in Chandigarh .
The Red Veds is one of the best wedding photographers in Chandigarh . They have been doing this for 10 years, and their team of experts can capture every moment.
A top 10 wedding photographer in Chandigarh , Red Veds has been ranked by Wedding Sutra . Several TV shows, magazines, and newspapers have also featured them, including APN News, Hindustan Times, and others. Additionally, the company has added videography services that capture the precious moments of your wedding day in a cinematic and editing manner. Red Veds has also been featured on several online portals.
I am Mohit Bhardwaj an exclusive Indian wedding photographer specialized in wedding, Prewedding and Fashion Shoot. As a photographer, I usually work throughout Chandigarh, Delhi, Udaipur and also available for destination wedding photography anywhere in the world. Through my ten years of journey, I learned that photography is an art of capturing emotions and love that are confined within us. With recognition over time and experience, we became a team of a well versed and qualified team of professional photographers, and I named it Red Veds.
Best Candid Wedding Photographer in Chandigarh
Best Wedding Photographers In Chandigarh, India . Red Veds is a team of creative and versatile photographers specialized in covering exuberant events like weddings, pre weddings, fashion shoots, festivals, fashion shows, and other national and international events across India and beyond. We believe in creating memories through the skills of photography that help us to relive those memories as we age. With the experience of over six years, Red Veds has successfully covered national fashion events, big fat weddings, creative pre weddings, etc. We are a team of creative photographers that has a cult to break the monotony to capture pictures, we endeavour to capture these events candidly and supremely. 
Why Choose Red Veds Photography?
We at Red Veds are a group of creative and the best wedding photographer in Chandigarh who strive to make your wedding an exuberant and a memorable event of your life. Our teams of professional photographers cover events like pre wedding, wedding ceremonies, bridal photo shoots, fashion events, and so on. If you anticipate having any of these services, then you must contact us and we will make sure you get the premium services on your ideal function. 
What our customers say about us
Mohit It was a pleasure having you as my photographer for all the functions . I cannot wait to receive my pictures and albums . The ones I saw so far are out of this world and you captured the emotions so beautifully. Hey mohit You are one in a million human being I felt like you have know you for so long and can talk about anything You made me feel so calm and comfortable even when I was all stressed out and acted like a bridezilla No one could have clicked better photographs For Every shot you have your 100 percent And I am so grateful Can't wait to see all the pictures I appreciate you and your team On the reception you guys were so cold and still were all excited to click You are such a wonderful person that it reflects through your work You are such a kind and beautiful souls It makes the best photographer In the world I am never hiring anyone else ever It's for lifetime Mandy and arun Big thank you Wish you lots of success
We had a wedding recently in Solan, for which we hired Red Veds. It was a full 3 day affair with multiple events back to back. All I can say is they are absolutely amazing. Not only were they professional but they were extremely polite with excellent service. They were also really fun to work with. One of our requirements was to have great candid photos and not be intrusive when events were going on. And they delivered 100%, capturing beautiful moments that will last a lifetime. They listened to us and worked with us without even once making us feel dissatisfied. It was a pleasure working with them and we (my husband, I, and our family) will absolutely recommend them to anyone!
I feel immense happiness whenever it comes to giving a review to team Red Veds because they deserve all the applauding. Exceptionally professional people who understand your anxiety and expectations. Mohit, is a gem of a person. Happy is a character who makes you feel comfortable like anything. Overall an amazing team. We had a gala time with them. Me and my husband are elated with the kind of work they have done to make our big day memorable. We call them our 'Family photographers' as they are going to handle all our upcoming events.
A heartfelt thanks to Team Red Veds and the man behind the team Mr. Mohit Bharadwaj. They covered our wedding a 2 day event in March 2021 and we are so happy with the quality of their work. The team is highly professional, responsive and work with utmost dedication. Each member of the team is very humble and have tremendous passion for their work. This was evident during the event days as well as afterwards until the delivery of each item in the package. They make high quality videos and work on every minute details specially in the highlight video. Checkout their YouTube channel.
One of my best decision in my marriage was to hire the Red Veds team. Mohit and his team are the most efficient and polite people I have ever worked with. They made us so comfortable across the 3 days of my wedding functions and not once did we feel that they are interrupting our fun as a photographer. And the pictures have turned out to be so perfect and beautiful. And as promised they were delivered on time. I would definitely recommend Red veds to everyone. Keep us the good work guys!!
Welcome to Redveds Photography, where we turn your cherished moments into timeless memories. At Redveds, we believe that every frame has a story to tell, and we are passionate about capturing those candid emotions that make your special occasions truly unforgettable.
Why Choose Redveds Photography?
Artistic Vision: Our team of skilled photographers has an artistic eye that brings a unique perspective to every shot. Whether it's a wedding, a family gathering, or a corporate event, we create images that resonate with beauty and emotion.
Personalized Approach: We understand that each client is different, and that's why we take the time to understand your vision and preferences. Our personalized approach ensures that every photograph reflects your style and personality.
State-of-the-Art Equipment: Redveds Photography stays at the forefront of technology, using the latest cameras, lenses, and editing software to deliver high-quality images with stunning clarity and detail.
Timeless Results: With Redveds, you can expect photographs that stand the test of time. Our timeless shots capture not just moments but also the essence of your story, allowing you to relive those cherished memories for years to come.
Unmatched Professionalism: Our team is committed to providing a seamless and enjoyable photography experience. From the initial consultation to the final delivery of your images, we ensure professionalism and efficiency every step of the way.
Discover the magic of Red Veds Photography and entrust us to capture your life's most precious moments. Whether it's your wedding day, a milestone celebration, or a simple gathering with loved ones, we are here to turn those moments into tangible memories that will be treasured forever. Contact us now to book your session and let Redveds Photography be a part of your beautiful journey.