Capturing Eternal Love:
Prewedding Shoot in Jaipur
A prewedding shoot is an exquisite way for engaged couples to celebrate their love story before tying the knot. Among the myriad of picturesque locations across India, Jaipur stands out as a top choice. Known as the "Pink City," Jaipur offers a perfect blend of royal architecture, vibrant culture, and majestic landscapes that create an enchanting backdrop for prewedding photography. In this blog, we will delve into the charm of Jaipur and explore the reasons why it is an ideal destination for capturing timeless memories during a prewedding shoot.
Majestic Palaces and Forts: 
Jaipur boasts an impressive array of palaces and forts that exude grandeur and opulence. The iconic Hawa Mahal, with its intricate latticework, provides a splendid backdrop for romantic shots. The majestic Amber Fort, perched on a hilltop, offers panoramic views and architectural marvels that elevate the beauty of any prewedding shoot. The Nahargarh Fort, known for its breathtaking sunset views, adds a touch of royal romance to the photographs.
Heritage Sites and Havelis: 
Jaipur's rich heritage is reflected in its ancient havelis (mansions) and historical sites. Step into the resplendent City Palace, with its ornate courtyards and stunning architecture, to capture regal moments. The Jal Mahal, a picturesque palace floating on the Man Sagar Lake, offers a unique setting for prewedding photography. The intricate frescoes and magnificent courtyards of havelis like Samode and Patwon ki Haveli add a touch of timeless elegance.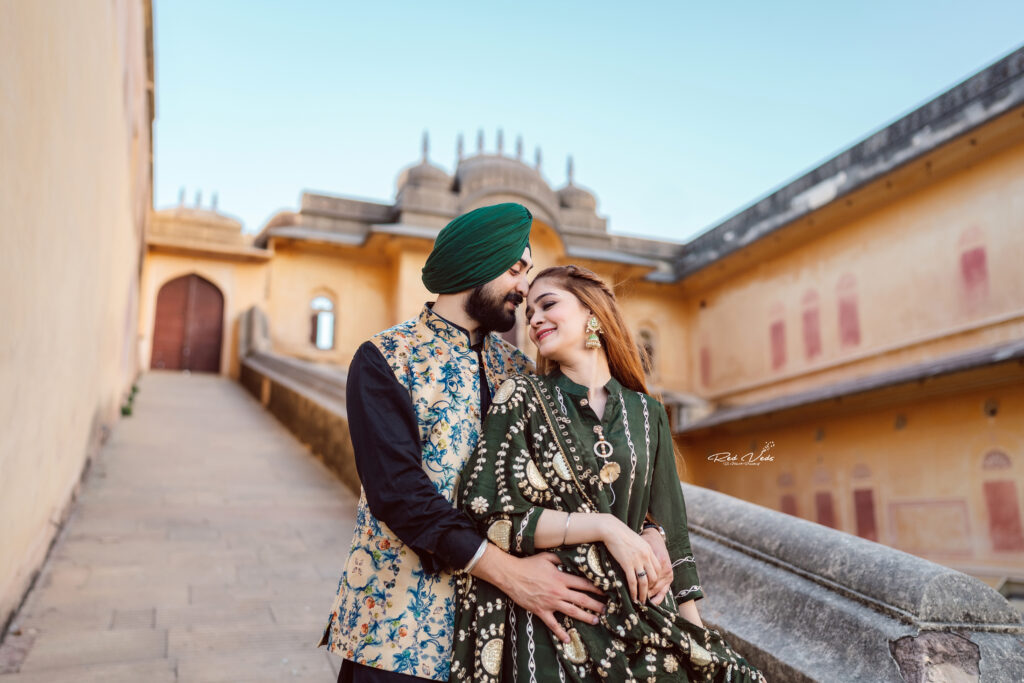 Vibrant Markets and Bazaars:
 Jaipur's bustling markets and bazaars are a treasure trove of colors and textures. The vibrant streets of Johari Bazaar, Tripolia Bazaar, and Bapu Bazaar provide an excellent opportunity for candid shots filled with local flavors. Adorn yourselves with traditional Rajasthani attire and explore the vibrant markets, capturing the essence of Jaipur's rich culture and heritage.
Royal Gardens and Natural Landscapes: 
Jaipur boasts several beautifully landscaped gardens that serve as ideal locations for dreamy prewedding shoots. The Sisodia Rani Garden, with its cascading fountains and flower-filled pathways, creates a romantic ambiance. The lush greenery of Central Park and Ram Niwas Garden offer picturesque settings for outdoor shoots. For nature enthusiasts, the serene landscapes of Nahargarh Biological Park and Jawahar Circle Garden provide a peaceful escape.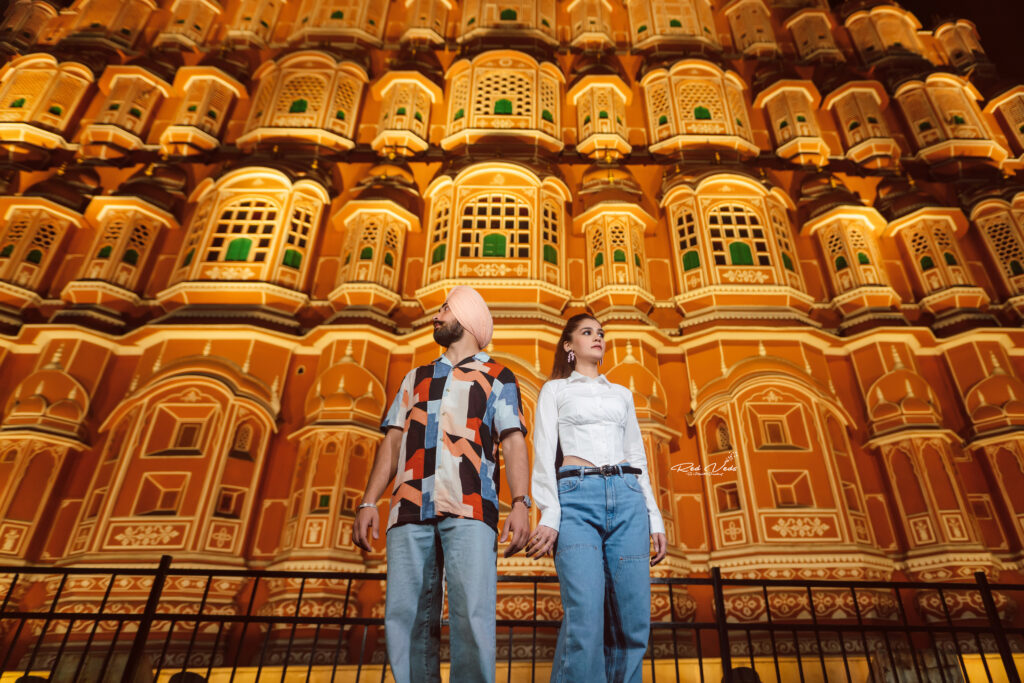 A prewedding shoot in Jaipur promises to be an unforgettable experience, blending royal grandeur, rich heritage, and vibrant culture. The city's magnificent palaces, forts, and havelis, along with its bustling markets and picturesque landscapes, provide a perfect canvas for capturing eternal love. Whether you desire a regal affair or a cultural extravaganza, Jaipur has it all. Embrace the magic of the Pink City and create timeless memories that will be cherished for a lifetime.